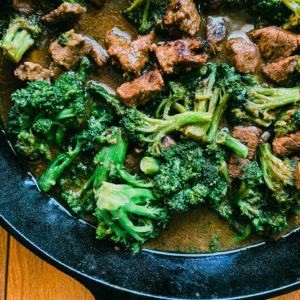 Beef & Broccoli
Ingredients
2

lbs

Flank or Sirloin Steak

3/4

cup

coconut aminos

2

tbsp

arrowroot powder

4

tsp

sesame oil

5

tbsp

avocado oil

4

cloves

garlic, minced

1

tsp

peeled and minced ginger

5

cups

broccoli

1/3

cup

beef bone broth

sea salt
Instructions
Slice steak into 1/8 inch slices. To make the steak easier to slice place in the freezer for 20 minutes.

In a separate bowl, whisk together coconut aminos, arrowroot, vinegar and 3 teaspoons sesame oil. Poor over steak and marinate 30 minutes in a shallow bowl.

Heat 2 tablespoons of avocado oil in a large wok over medium/high heat. Add in the garlic and ginger, and sizzle for 45 seconds. Stir in the broccoli and toss until they turn bright green, 6-7 minutes.

Add the remaining 3 tablespoons avocado oil and heat the pan. Using tongs, add the marinated meat in a single layer - be sure to not crowd the pieces so that they can brown evenly. After one minute, flip the meat and let it cook another minute. Remove the meat from the wok and allow to rest.

Pour the remaining marinating liquid into the wok with the bone broth, salt and pepper. Cook until the sauce starts to thicken. Add the broccoli and beef back into the pan. Season with salt, pepper and sesame oil. Serve with white or cauliflower rice.