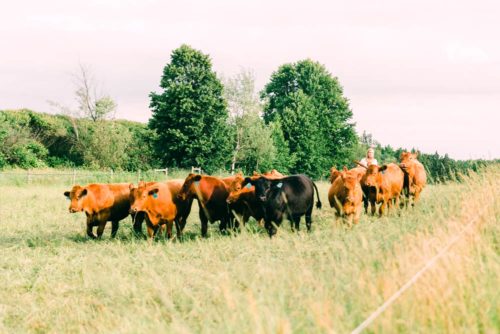 The Story of Spring Cut Cattle
When the decision was made to put their efforts into regenerative agriculture, Doug and Tyler spent endless hours researching and attending classes to advance their knowledge to find the best possible cattle genetics for a grass-finishing operation.
All roads led to Lynn Johnson, Ph.D. in Animal Genetics, and a Grazing Consultant with the Northwest Graziers Network. His Angus beef is exactly the genetics that research recommends. These animals are small-framed because they weigh less and cause minimal unnecessary disruption to the pastures during wet seasons. They are also very low maintenance, as they don't require supplementations through feed or medication; they are bred to thrive in the environment.
Each ecosystem has species that are meant to live there. Spring Cut Cattle Company's cattle flourish on their farm, and if they don't, they remove them from their breeding program.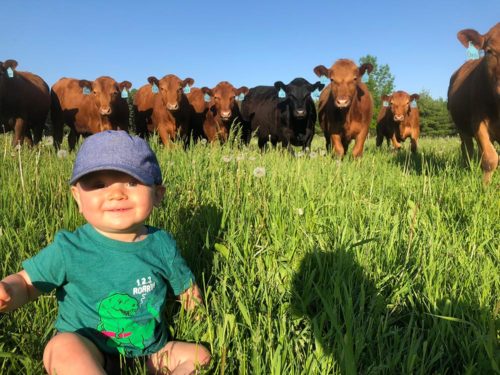 The ultimate goal is that the animals are so well placed that they need little to no extra attention to thrive. This type of cattle also requires very little assistance when calving. Currently, Doug works full time, and Tyler doesn't have resources or time to tend to calves with two small children, so the cattle need to be able to calve and care for their young without intervention.
Spring Cut cattle are also incredibly docile. They don't need heavy infrastructure to handle them and in most situations, Caleb and Reese are right there with their family tending to the animals without fear.
Another plus to these animals is that they are feed-efficient, meaning they turn less grass into more meat in less time than other cattle.
Spring Cut cattle are known for their longevity. These animals' ancestors come from Montana, and many have lived 20-24 years, representing the hardiness of the breed. To bring a premium product to their clients that isn't filled with additives, medications, and hormones, the animal – from calf to steer and headed for harvest – needs to have the tools to thrive. These cattle have what they need.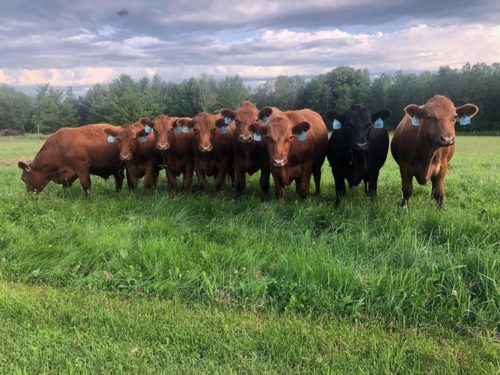 Lynn has been such a blessing to the Stanek family and the growth of their farm. From the first year they purchased, Lynn placed his top genetics in their pastures. With retirement approaching Lynn, he has gone above and beyond to work out a deal, that is always to Doug and Tyler's advantage, to place with them with as many animals their pastures can support. In his words, "I want to see my cattle go to a good home that appreciates them for what they are: grass-finishing animals." In addition to all his help with starting Spring Cut Cattle Company, he is always available to answer questions, make connections, and get them the resources they need to progress.