Spring Cut Pasture-Raised Chicken
Regenerative Chicken
Our Spring Cut Pasture-Raised Regenerative Chicken always have access to green grass, fresh air, and sunshine. Our chickens aid in the social regeneration process by using their feet and beaks to search for grubs and bugs. They live in moveable shelters, so they are moved daily to new grass where they fertilize the pastures with their manure allowing for better water absorption and nutrient-dense forage.
Here are a few key things you should know about our chickens:
24/7 access to green grass, fresh air, and sunshine
Aiding in the social regeneration process of the farm
Supplemented with non-GMO feed
Purchase Options:
Medium (3-4 lb. birds)
Large (4-5 lb. birds)
Orders (beef and chicken combined, or alone) must be $90 minimum to ship/local drop point.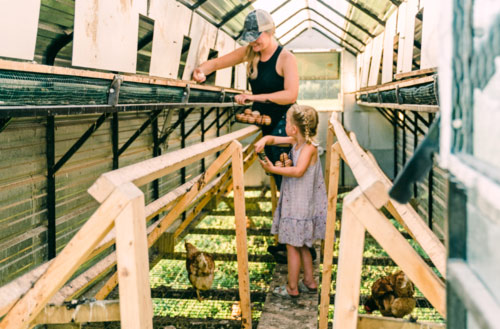 Spring Cut Pasture-Laid Eggs
Regenerative Eggs
Our Spring Cut laying hens are raised in their natural environment, which means that the number of eggs they lay depends on the amount of daylight hours. They follow the cattle in their rotation coop where they have access to grass, bugs, and fresh air all day. Every night they are safely secured in the coop away from predators.
Here are a few key things you should know about our pasture-laid regenerative eggs:
The number of eggs they lay depends on the amount of daylight hours (So more eggs in the spring and summer, less in the fall and winter months)
Eggs vary in size from small to large
Purchase Options:
Available for local customers only on farm pick-up
Available for local delivery with purchase of beef and/or chicken. ($90 minimum)